---
Videos: Blue Suede Shoes (Live) | Love Me Tender | Una Lacrima Sul Viso | Gelosia | Strangers In The Night | Are You Lonesome Tonight? | Al tuo amore non ci credo
---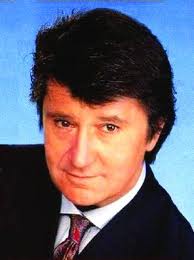 International fame is hard to achieve, but vocals that spread from deep bass to clear falsetto, similar to those of Elvis Presley, have helped make Italian recording artist Bobby Solo a household name in many different countries.
Bobby Solo has the ability to connect a song with his listening audience, and often does so by singing songs in the audience's own language. He has countless recordings in German, French, Spanish, English and even Japanese, which is unmatched in today's market.
Over the past five decades, Bobby Solo has recorded several hit songs in his native Italy, landed a recording contract with EMI and has paid tribute to his idol, Elvis Presley, on several different occasions.
Creative and Dreams Music Network and Fred Cannon are proud to welcome this dynamic, seasoned international star to their family of artists for the next phase in Bobby's already illustrious career.
Bobby Solo is a timeless artist who has covered almost half a century of music, while also conquering the love of a vast audience, which still packs theatres and city squares where he performs today. His warm and tender voice, able to spread from deep bass to clear falsetto, is very similar to the one of the great Elvis Presley, whom Bobby respectfully calls "Il Maestro" and to whom he has always openly admired without becoming a slavish imitator. These qualities gained Bobby the nickname of "The Italian Elvis Presley."
Bobby, whose real name is Roberto Satti, was born in Rome, Italy on March 18, 1945. As a teenager he moved to Verona where his older sister and her American soldier husband already resided. Thanks to his brother-in-law, Bobby had the chance to become familiar with American popular music, especially the country and rock and roll genres.
He already played the guitar and had a good voice, so he was often invited to sing and play at house parties of his brother-in-law's colleagues, but the decision to become a professional singer came when he saw Elvis Presley's movie Jailhouse Rock. From then on Elvis became his reference to refine his vocal style and to write his first songs. In the spring of 1963, Bobby went to the Ricordi Record Company in Milan for an audition to become a recording artist under contract with the company. Producer Vincenzo Micocci, who was always looking for new talents, immediately put Bobby under contract and transformed him into Bobby Solo with the release of his first single, "Ora che sei già una donna / Valeria."
His big hit came at the beginning of 1964 at the Sanremo Song Festival, where Bobby presented "Una lacrima sul viso," with Frankie Laine. An unexpected throat problem forced him to sing in playback, so while he was able to present the song, he was disqualified from the contest. Still, his record found incredible success both in Italy and abroad, selling more than six million copies throughout Europe, Japan and South America.
The next single "Credi a me" won the first edition of Festivalbar in the summer of 1964. The following year, Bobby won the Sanremo Festival with "Se piangi, se ridi," which he sang with The New Christy Minstrels. He also presented the song at the Eurovision Song Contest.
Other big hits of that time included "Quello sbagliato," "Cristina" and "La Casa del Signore," the Italian version of Elvis's "Crying In The Chapel." In 1966 Bobby had two minor hits with "Questa volta," which he sung with The Yardbirds at the Sanremo Festival, and "Per far piangere un uomo," an Italian cover of Tom Jones' song, "To Make A Big Man Cry." The following year Bobby struck again with "Non c'è più niente da fare" and the Italian cover of Scott McKenzie's "San Francisco." 1969 is the year of his second triumphant victory at the Sanremo Festival with the song "Zingara," which he sang with Iva Zanicchi. "Domenica d'agosto" was his last hit before the start of a lean period, which lasted for the first half of the 1970s. His two last appearances of that era at the Sanremo Festival were in 1970 with "Romantico Blues" and in 1972 with "Rimpianto." Both songs passed by almost unnoticed, and his contract with his record company came to an end.
After two new albums were released in 1975 and 1977 on two different labels, Bobby decided to become a producer and opened the Chantalain Recording Studio. It was a nice but short experience for him, because he realized he felt much more at ease in front of a microphone than behind a mixer.
In 1978 Bobby signed a new contract with EMI and returned to the music scene with the album Duty Free, A Tribute to Elvis Presley. Immediately after, "Una lacrima sul viso" was revisited in disco format, and the song became a big hit in France. From 1981 to 1984, Bobby appeared at the Sanremo Festival with four new hits: "Gelosia," "Non posso perderti," "Tu stai" and "Ancora ti vorrei."
"Ancora ti vorrei" closed out his contract with EMI, and Bobby became an independent artist, recording regularly for many different labels. From 1985 to 1987, he teamed up with friends Little Tony and Rosanna Fratello to form the Robot Trio. They released two albums of Italian and international hits. In 1989 Bobby won another TV contest with "Una lacrima sul viso." In 2003 he teamed up again with Little Tony and made a big return to Sanremo with his own composition and critically acclaimed song, "Non si cresce mai."
Today Bobby Solo is an artist of vast and consolidated popularity who can count on the loyalty, sympathy and affection of large audiences whenever he performs on stage or on television.
Today he can take the liberty to record only the music he likes best without caring too much about the "hit parade."
His last albums range from many different styles, from Johnny Cash to Frank Sinatra and John Lee Hooker, from Roman folk songs to Neapolitan classics and Christmas songs revisited in jazz fashion.
The backbone of his concerts are his tributes to the music of his "Il Maestro," Elvis, mixed with his big hits, as well as rock and blues classics.
For more information about Bobby Solo, please contact us at info@creativeanddreamsmusicnetwork.com.
It all starts with a creative dream. – Fred Cannon