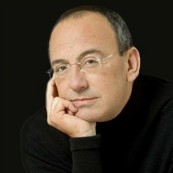 Celine Dion, Pavarotti, Garou, Ginette Reno, Luc Plamondon (Notre -Dame de Paris), Alain Delon, Stephanie de Monaco and Ray Charles are just a few of the many platinum selling international artists that Romano Musumarra has put his signature of success on as a composer, arranger or producer.
Romano fulfilled his long-dreamed career as a composer for film score on more than 25 films such as Le Grand Pardon, L'ours en peluche and La femme de ma vie where the title song "T'en va pas" was sung by a very young girl named Elsa. The song has sold millions of records all over the world and has been translated in many languages including Japanese and Chinese.
When he produced Jeanne Mas she became one of the most successful artists of her time, selling millions of records with songs like "En rouge et noir" and "Johnny Johnny." Under Romano's production, Luciano Pavarotti (Il canto and Notte) turned platinum in many countries, Garou "Seul" Gitan has gone platinum many times in the French market and Alessandro Safina's "Luna" is platinum in more than 20 countries.
Romano has received numerous awards from SACEM and SOCAN for the most played songs on the radio and highest selling records. He won a "European Breaker Border Award" for Vittorio Grigolo's debut album In the Hands of Love as the most successful record outside his territory of production.
Having worked with artists like Celine Dion, Garou, Ginette Reno for many years with famous Author Luc Plamondon (Notre -Dame de Paris), Plamondon then used some of the unedited material Romano had accumulated over the years and turned it into a musical named CINDY 2002, which ran for three months at the Palais des Congrès in Paris.
Romano received a medal from the Minister of Culture Mr. Leotard in France and is now "Chevalier de l'ordre des arts et des letters."
Romano mostly works at his own recording studio in Italy, "Studio Romus," which has been praised as "one of the most magnificent recording studios in Europe. Studio Romus has rekindled his very first love — classical music and composing music scores for film projects. He has registered with "the Orchestra di Roma" for some Popera projects such as Vittorio GRIGOLO, Alessandro SAFINA , DIV4S and many more. He is presently working on a popera-lounge concept album with his wife and singer Judith Bérard.
Creative and Dreams Music Network is honored to have Romano join our Network of Talent.