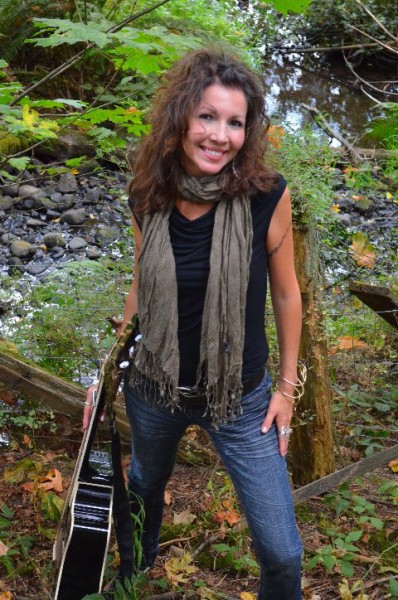 Creative and Dreams Music Network, LLC and Fred Cannon are proud to welcome DeAnna J Cartea.
With a voice that is at once both instantly recognizable and mesmerizing, Canadian singer-songwriter DeAnna J Cartea captured the attention of Fred Cannon when he happened upon her music while surfing the internet. Excited by what he heard, Fred decided to record an album of some of her songs. He enlisted the help of co-producer Paul Buono, and the end result is DeAnna's  highly anticipated debut release for Creative and Dreams, 'Second Chance – Songs I Wrote for You'. Influenced by the genres of KT Tunstall, Mazzy Star and Chrissie Hynde, it is the empathy DeAnna brings to her songwriting, gleaned from a career in social work and intertwined with personal experience, that showcases her ability to create and convey from the heart.
DeAnna grew up in Regina, Saskatchewan. No-one in her family was musical, but at the age of 11 she learned to play piano by ear, and began writing songs. The songs that she wrote were therapeutic and solely for her own pleasure. At 14, DeAnna took up the bass guitar; the only option available when she joined a girl band. She continued to play bass, and also sang backing harmonies, in a gospel group out of Edmonton, Alberta, called 'Morning Star'. When the group embarked on a tour of Canada for a year, the then 19 year old DeAnna joined them.
Music then took a back seat while she studied for her Bachelor's Degree and concentrated on a career in social work. It was her decision to relocate to the Sunshine Coast of British Columbia in 2006 that brought her musical career back to the fore. Her new location was home to a thriving music community, and things really began to take shape when she met other local musicians and songwriters and began performing at the 'Wild Bistro'. Upon finding her talent warmly received, DeAnna made the decision to give up social work and fully concentrate on her music as an alternative way of helping people.
Of her collaboration with Cannon-Buono, DeAnna says that she is humbly grateful for their hard work and belief in the songs. For his part, Fred Cannon says, "DeAnna J Cartea is one of the most talented vocalists and songwriters that I have had the pleasure to work with. She has a very distinguished voice and is a true professional. Paul Buono and I are tremendously excited to have produced her recordings."
'Second Chance – Songs I Wrote for You' is slated for release in the summer of 2015. You don't want to wait for a second chance to hear this first class album from DeAnna J Cartea.
For more information about DeAnna J Cartea, please email us at info@creativeanddreams.com.
"It all begins with a creative dream." – Fred Cannon

Radio Interview
1. You started playing music at a very young age, didn't you?
2. Your main instrument now is playing guitar?
3. And didn't you also used to play bass guitar?
4. When you write a song, which comes first, the music or the lyrics?
5. Tell us about your new album, Second Chance – The Songs I Wrote For You.
6. What inspired your song, "Beacon Of Light"?
7. And your beautiful song, "Cover Me"?
8. What was your inspiration for your song, "Tears"?
9. You also co-write, what was it like co-writing your song, "Red Wine And Cigarettes" with your husband, Kris Anders?
10. What was it like working with your producers, Fred Cannon and Paul Buono?
11. Are you going to be touring in support of your new album?
12. Where can our listeners find you on social media?