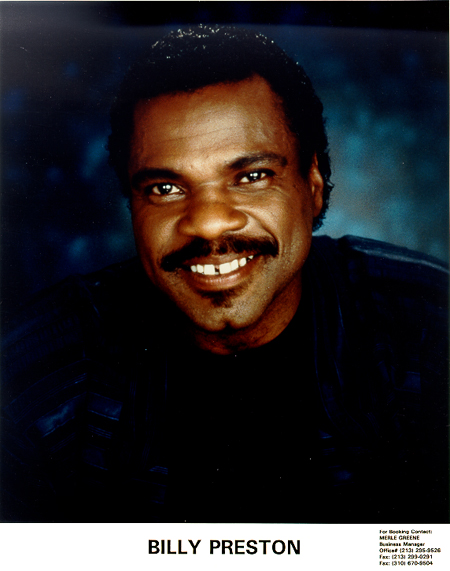 Creative and Dreams Music Network and Fred Cannon are proud to honor the memory of legendary R&B, rock, soul, funk and gospel recording artist, hit songwriter and musical genius Billy Preston who graced us with his incredible talent for a half century before his passing June 6, 2006.
Billy Preston rose to fame initially as a session musician who worked with Sam Cooke, Ray Charles, The Beatles and The Rolling Stones, and he later had a successful solo career with hits such as "Outa-Space," "Space Race," "Will It Go Round in Circles," "Nothing from Nothing" and "I'm Born Again." He also collaborated with Eric Clapton, each of the Beatles individually, Bob Dylan, Aretha Franklin, Sly and The Family Stone as well as the Red Hot Chili Peppers, among others.
Born William Everett Preston, September 2, 1946 in Houston, Texas, his mother Robbie "Mutt" Preston relocated the family (consisting of Billy, his sister Gwen and her twin brother Don and their sister Rodena) to Los Angeles when he was three years old, after separating from his father George.
A child prodigy, Preston began playing piano while sitting on his mother's lap. By the age of ten, he was playing the organ onstage for gospel greats Mahalia Jackson and James Cleveland.
Billy made his movie debut at the ripe age of 12, portraying the young W.C. Handy in the biopic about the blues creator and legend, St. Louis Blues, starring Nat King Cole, Pearl Bailey, Eartha Kitt, Ella Fitzgerald, Ruby Dee, Mahalia Jackson and other legendary singers and actors. The previous year, Preston had appeared on Cole's national TV show singing the Fats Domino hit, "Blueberry Hill."
In 1962, 15-year-old Billy Preston joined Little Richard's band as the organist for Richard's European Tour. While performing at The Star Club in Hamburg, Germany, he met, fed and befriended The Beatles, who were Little Richard's opening act.
In 1963 Billy played the organ on Sam Cooke's seminal Live From The Night Beat album. That same year he recorded and released his debut album, 16 Year Old Soul, on Cooke's SAR Records label.
In 1965, he released his second album The Most Exciting Organ Ever. Billy also became the organist on the groundbreaking rock and roll television show, Shindig! for their 1965-66 season, accompanying everyone from Jackie Wilson to The Who on his personal white B-3 organ.
In 1967, while touring the UK as part of Ray Charles' band, his friend George Harrison asked him to drop by Abbey Road Studios so he could play with The Beatles on the album they were making at the time, The White Album. Billy, who'd known the Fab Four prior to their rise to fame, was thrilled to be invited to join them for the recording sessions. Billy appeared on three Beatles albums, The White Album, Abbey Road and Let It Be. On Let It Be he became the first musician to ever have full label credit. When the single was released, the label copy read "The Beatles with Billy Preston" on both the A and B sides of the single. Billy is listed on 11 Beatles recordings including "Something," and is the only keyboard player credited on "Get Back." As testimony to Billy' s involvement and participation with the Fab Four, Billy joined the group as the only keyboard player on their famous break up last Concert on the Roof featuring Paul on bass, George and John on guitars and Ringo on drums.
In 1969, Billy, who was actually signed in the U.S. to Capitol Records, was allowed to sign a new agreement with The Beatles' Apple Records label, and was produced by George Harrison who enlisted Ginger Baker, Eric Clapton, Keith Richards and others to play with Billy on the tracks. Those sessions became the That's the Way God Planned It album. The album included a single of the same name that was produced by George Harrison. Preston was the first artist to record "My Sweet Lord," for his album Encouraging Words. He also appeared on several of Harrison's 1970s solo albums, made notable contributions to the Harrison-organized charity concert, The Concert for Bangladesh, and played with Harrison on his 1974 tour of North America. Billy also played "cupid," introducing Harrison to Olivia Arias, who worked for A & M Records, the home of Billy's solo hits. The result was an enduring marriage and a son Dhani.
 Preston worked on records by other solo Beatles John Lennon and Ringo Starr. After the Encouraging Words album, Preston signed with A&M Records (1971).
In 1972, Preston's instrumental track, "Outa-Space," reached #2 on the U.S. Hot 100, reached #1 on the R&B chart and won the Grammy Award for Best Pop Instrumental Performance. The song sold more than one million copies and was awarded a gold disc by the R.I.A.A. in June 1972. Over the next two years, Preston followed with the #1 hits he penned with then writing partner Bruce Fischer "Will It Go Round in Circles" and "Nothing From Nothing," as well as the #4 hit "Space Race." The three releases each sold more than one million copies. The Preston/Fischer duo also wrote one of the most played songs of all time "You Are So Beautiful." Billy is quoted as saying he wrote it to honor him mother, Robbie Williams. Though the 1973 Joe Cocker rendition was wildly famous and popular, it was Preston with longtime friend Sam Moore's version in 2006 that finally earned the song a Grammy nomination.
 After working with The Beatles, Preston played keyboards (including piano, organ, clavinet and various synthesizers) for The Rolling Stones on the following albums — Sticky Fingers, Exile on Main Street, Goats Head Soup, It's Only Rock'n Roll and Black and Blue. As the band's primary touring keyboardist between 1973 and 1976, he also performed as a supporting act with his own band on their 1973 European tour. Preston's 1973 album Do You Love Me was the basis for the Stones' song "Melody" on their 1976 Black and Blue album. Although two of his songs, "Nothing from Nothing" and "Outa-Space," were included in the band's 1976 live sets, the Stones and Preston parted ways in 1977. Preston, like with the disbanded Beatles, continued to play on solo records by Stones' members and made appearances on the Stones' 1981 album Tattoo You and 1997 album Bridges to Babylon.
 Billy Preston was the first musical artist to ever perform in concert at Radio City Music Hall on May 8 1972 and the first musical guest, along with Janis Ian, to perform on Saturday Night Live's first episode that aired on October 11, 1975, so it becomes ever more curious that he's never been considered for induction into The Rock & Roll Hall of Fame as a soloist or even a side man.
After years with A&M Records, Preston moved to Motown Records. In 1980, he had a top-ten hit duet "With You I'm Born Again" with Syreeta Wright that reached #4 on the charts in the U.S. When Preston failed to match its success, he left the label and returned to session work and solo touring.
In 1988 Billy toured Italy with Sam Moore for most of the summer. The relationship that developed with Sam's wife Joyce led her to tap Billy as the Music Director for the "Celebration for Young American's" George H.W. Bush (41) Inaugural Ball and Concert in 1989.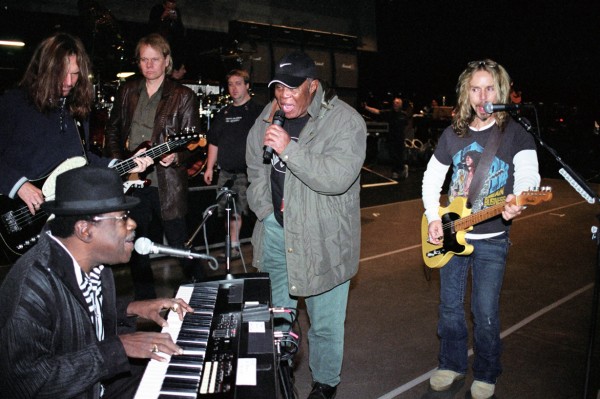 In the 1990s, Preston toured with Eric Clapton and recorded with Gary Walker, one of the vocalists in his Los Angeles-based band. He also toured with Ringo Starr and appeared on the 1990 live album Ringo Starr and His All-Starr Band. In 1991, he toured with The Band after the death of their piano player, Stan Szelest. In 1998, Preston played the organ during the choir numbers on the UPN comedy show Good News.
Some of Billy's most unfortunate personal life issues found him in trouble with the law and incarcerated for approximately 18 months, being released in the late summer of 1999.
Billy struggled to get his get his career and life back on track. Confidence low, he turned again to close friends Sam and Joyce Moore. Sam was headlining a new event "Rhinofest" and invited Billy to join him on stage. The crowd's reaction to Billy's performance unlocked his confidence. Billy became determined to resurrect his career and get his life in order. Offers to tour with Ringo Starr, Tina Turner, Eric Clapton and others began pouring in.
In 2001 while touring with Eric Clapton, it was discovered that Billy suffered complete kidney failure. His life hanging by a thread when diagnosed, Billy not only survived, but once on a proper regimen he was able to rejoin the Clapton tour, getting his lifesaving dialysis at centers around the U.S. and Canada.
When Billy received the news that his old friend George Harrison had died, he was heartbroken. At the request of George's widow, Olivia, Billy's performance of "My Sweet Lord" at the 2002 Concert for George at London's Royal Albert Hall had most of the capacity crowd on their feet and quite literally marching down the aisles to the skirt of the stage in admiration for George and awe for Preston's rendition. He played the Hammond B-3 Organ for the entire concert, sang "Isn't It a Pity" and provided backing vocals on most of the other songs.
That same year, Billy appeared on the Johnny Cash album American IV: The Man Comes Around, playing piano on "Personal Jesus" and "Tear Stained Letter."
Preston's 2002 kidney transplant failed in fall of 2003 and Billy found himself back on dialysis three times a week.
In early 2004, Preston toured in Europe with the Funk Brothers and Steve Winwood, and then with his friend Eric Clapton in Europe and Clapton's Crossroads Festival Dallas, Texas.
Billy suffered a near fatal infection at the start of the Clapton North American tour leg and had to be flown back to Los Angeles where he spent three weeks at Cedar Sinai Hospital. It was during that hospitalization that Billy's inspiration and mentor, Ray Charles, passed away. Billy had no idea that Ray was actually being discharged to go home to die as Billy was being admitted in the effort to save his life. Unable to participate at the Charles funeral, Billy had to watch the services from his hospital bed.
He'd performed on several of the tracks of Ray's last album, Genius Loves Company, including "Here We Go Again," the song Ray did with Norah Jones.
Preston appeared on the Grammy's in 2005 and on American Idol's fourth season finale in 2005. He played the piano during a performance of "With You I'm Born Again" with Vonzell Solomon, who finished in third place. He also recorded "Go Where No One's Gone Before," the title song for the anime series L/R: Licensed by Royalty.
Billy sang and played at Concord records Tribute to Ray Charles in early August, 2005 at The Hollywood Bowl.
Later that month, back home in Scottsdale, Arizona, Preston played clavinet on the song "Warlocks" for the Red Hot Chili Peppers album Stadium Arcadium that was released in 2006, and at the same session, he provided organ work for the Neil Diamond album 12 Songs. Rick Rubin produced both projects.
In late August of 2005, Billy spent 10 days in Los Angeles to do the keyboard work for The Road to Escondido album of Eric Clapton and J. J. Cale.
Preston made his last public appearance on October 19, 2005 at the Los Angeles press junket for the DVD-release of the Concert for Bangladesh movie. Afterward the junket, he played a three-song set of "Give Me Love," "My Sweet Lord" and "Isn't It a Pity." That same day, he also recorded for the last time in a studio. During the session for Sam Moore's Overnight Sensational album, he found his name carved in the back of the Hammond organ he was playing. He realized it was the same organ he'd used when he recorded "Nothing From Nothing," "Outta Space" and "Will It Go Round In Circles" in the early 1970s.
Billy slipped off the wagon badly during those few days in Los Angeles, landing himself in Mayo Clinic Hospital for the next three weeks. Determined to finally beat his life issues, he agreed to go to a live-in rehab program. Sadly, Billy Preston, who'd taken the giant steps needed to have a great rest of his life, fell victim to a medical calamity while at rehab, suffered respiratory arrest and somehow an irreversible coma. He passed away in Scottsdale, Arizona on June 6, 2006.
Billy Preston left behind a musical legacy that even inspired jazz great Miles Davis to honor him with a composition titled "Billy Preston" included on Davis' 1974 Get Up With It album.
People don't know that Stephen Stills actually "borrowed" a classic Billy phrase he'd heard him say one evening when they were in each other's proximity – "If you can't be with the one you love, love the one you're with." Steve proceeded to write what would become a huge hit song for him using Billy's words as both the title and the hook for his tune.
Preston was the only musician ever to be credited on two Beatles' recording. The label copy on each track read "Get Back" and "Don't Let Me Down" were listed as The Beatles with Billy Preston.
Billy Preston was the only musician and recording artist to play, perform or record with all of the following: Nat King Cole, Sammy Davis Jr., Ray Charles, Mahalia Jackson, James Cleveland and The Caravan, Sam Cooke, Little Richard, Aretha Franklin, The Beatles the group and as individual artists, The Rolling Stones, Bob Dylan, Eric Clapton, Mavis Staples, Bonnie Raitt, Nora Jones, Sheryl Crowe, Elton John, Neil Diamond, The Red Hot Chilli Peppers, Christine Aguilera, Sam Moore and so many other greats.
Billy Preston's legacy must be protected as he'd wanted! It has come to our attention that a serious threat has been undertaken to wrestle away Billy's essence, his music encompassing all he created and participated in during his lifetime from the corporation he chartered that holds all of the rights and interest in his life's works.
Creative and Dreams Music Network takes no position in that matter other than to say it would seem that what Billy set up and took the pains to protect should be honored to the letter.
We are saddened and concerned that as of this date Billy's wishes are not being honored and we want to at least call that to the attention of those who view this site.
For more information about Billy Preston, please contact us at info@creativeanddreamsmusicnetwork.com.
"It all starts with a creative dream." – Fred Cannon
Billy Preston's Biography and its revisions incorporated herein are
© Preston Music Group, Inc. 2004-2013 inclusive
Republish with permission only
Tribute to Billy Preston (video)

[media id=17]

Billy Preston on SOUL!

Will It Go Round In Circles

My Sweet Lord Concert for George

BB King, Billy Preston and Bruce Willis

Billy Preston and Ray Charles

Get Back